Breakfast in Bed Recipes
---
Treat your love with a healthy & savory breakfast in bed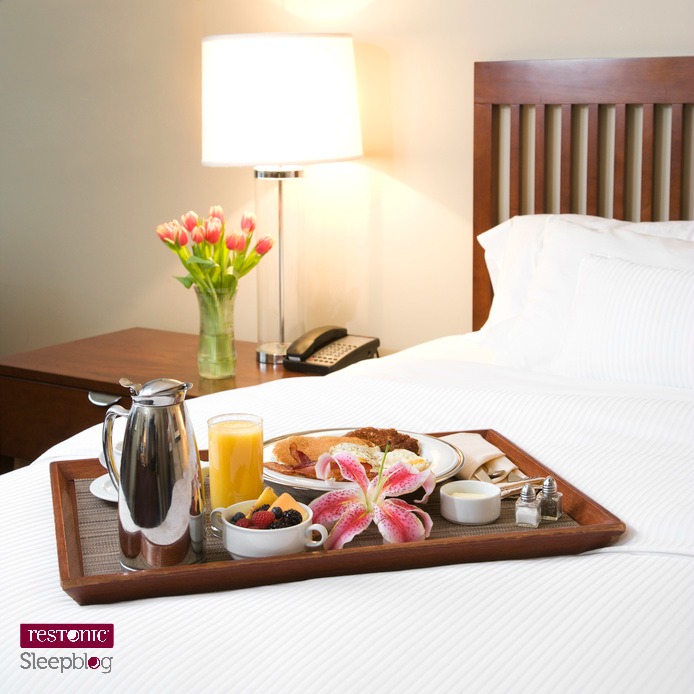 With Valentine's Day rapidly approaching, many of you may be scrabbling for a last minute idea for what to do for your significant other. We've got you covered with this simple, inexpensive, there-is-still-time-to-pull-this-off gift: breakfast in bed.
As the saying goes, the best way to someone's heart is through their stomach – and we couldn't agree more. And what better way to pave a path to your love than with breakfast in bed. It's the most important meal of the day nutritionally and the simple gesture of preparing your special someone a breakfast that is not only delicious but full of nutrients is both thoughtful and romantic.
Here are some examples of healthy breakfast options for your morning picnic in bed:
Hot coco – If coffee isn't really your lover's thing, try this dark chocolate hot coco recipe. Dark chocolate is a super-food with many benefits, including being heart healthy and a sleep aid, and what would Valentine's be without a little chocolate?
Eggs in a basket – Eggs are a great source of protein, which studies show give you energy and help keep you feeling fuller longer. Try this twist on eggs and toast. Bonus points for using whole grain bread, also a great source of energy and nutrition.
PB & J pancakes – Peanut butter is a great source of healthy heart fats and protein. Try this recipe with a strawberry syrup for a savory breakfast treat.
Berry yogurt parfait – Greek yogurt with some fresh fruit and a non-fat granola is not only tasty but another great source of protein and antioxidants to help you start your day with. This recipe calls for strawberries and raspberries but you can add bananas, blueberries, kiwi or whatever other fruit your love enjoys.
Blend a smoothie – A smoothie rich with antioxidants is a perfect addition to any breakfast. Antioxidants have numerous health benefits, including reducing the signs of aging. This recipe from Prevention Magazine with blueberries, banana and green tea is a tasty, energizing treat.
Green Tea, Blueberry & Banana Smoothie Recipe
Ingredients
6 tbsp. water
2 green tea bags
4 tsp. honey
3 cup frozen blueberries
1 med banana
1 ½ cup calcium fortified light vanilla soy milk
Showtime
Microwave water on high until steaming hot in a small bowl. Add tea bags and allow to brew 3 minutes. Remove tea bags. Stir honey into tea until it dissolves. Combine berries, banana, and milk in a blender with ice crushing ability. Add tea to blender. Blend ingredients on ice crush or highest setting until smooth. (Some blenders may require additional water to process the mixture.) Pour smoothie into two tall glasses and serve
NUTRITION (per serving) 269 cals, 2.5 g fat, 0.2 g sat fat, 52 mg sodium, 63 g carbs, 38.5 g sugars, 8 g fiber, 3.5 g protein
Once your significant other and you have enjoyed your breakfast, hopefully you're energized and ready to enjoy your day together. We suggest spending the day in bed – but that's just us.
Have a favorite breakfast in bed treat? Share it with us!

Restonic Giveaways
Sign up for our newsletter
Eager for more sleep info you can really use? Join our communities on Facebook and Twitter and let's continue the conversation.
We'd love to hear what you have to say!
This blog does not provide medical advice. It is intended for general informational purposes only and does not address individual circumstances. It is not a substitute for professional medical advice, diagnosis or treatment and should not be relied on to make decisions about your health. Never ignore professional medical advice in seeking treatment because of something you have read on Restonic.com. If you think you may have a medical emergency, immediately call your doctor or dial 911.