---
Embrace these little things you can do in your sleep space to have a positive impact on the environment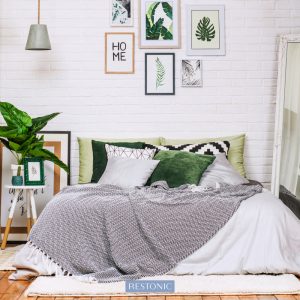 There are so many reasons to think about the impact of climate change in our lives and the lives of our children and grandchildren coming after us. The best news is how so many companies are setting a good example by collaborating with organizations that are actively working to preserve the health of our planet.
Restonic's partnership with One Tree Planted (OTP) is one such example. The non-profit group has planted more than hundreds of millions of trees in over 40 countries since 2014. Restonic and One Tree Planted work closely with customers and retailers on ways they all can show their support and participate. It's an initiative that means a lot to Drew and Jonathan Scott, hosts of TV's Property Brothers.  They believe everyone can be a friend to the environment and take steps to protect it for generations to come. Even small actions have a big impact.
How do Drew and Jonathan balance planet health with the health of people?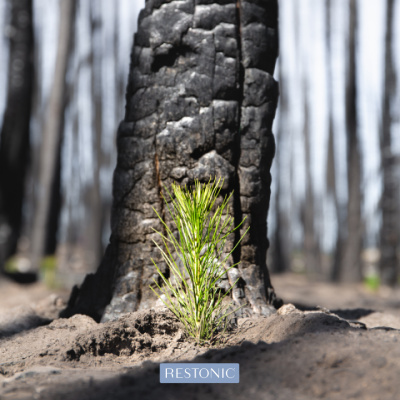 Doing what you can to conserve energy in the bedroom, while ensuring a healthy sleep environment for the body, has nice pay-offs, like being kind to your wallet. "A well-insulated bedroom in cold months will save you hundreds in heating bills and is better for the planet, too," explains Jonathan. "Drapes with blackout linings (like the Drew & Jonathan Home drapes sold through Smith & Noble) help keep the cold out and the warmth in. During the summer, if your windows are in a location that allows them to stay open at night, you can create a cross-breeze that eliminates the need for a fan or air conditioning."
As Drew points out: "It just so happens that these same tips are good for better sleep, too. Blackout curtains help keep out unwanted light pollution while opening windows during the summer can create a natural sound background that can replace your white noise machine – assuming you don't have unusually noisy neighbors."
Also consider using a programmable thermostat to drop the temperature in your home a few degrees at night. It saves energy and also creates the optimal environment for better sleep. If you're a bit chilly, throw an extra blanket on your bed. For cold toes, try using a hot water bottle under the covers or wear a cozy pair of socks.
Being mindful about how we use appliances can be good for our health and the planet
Drew suggests if you're home more and find yourself doing more loads of laundry, make sure you're running a full washer. It's usually better for high-efficiency machines and cuts down on overall electricity and water use. For the dryer, reduce your exposure to chemicals by using wool dryer balls instead of dryer sheets.
And for those who like to watch TV in bed, don't leave it on all night. The blue light it emits is bad for your sleep and it wastes energy. Make sure you use the timer or sleep function for your TV so it will turn off after you've dozed off.
For Jonathan, looking after your health means exercise: "I love going on a good walk at the end of the day. It helps me decompress and think about the day and it's good for my physical health, too. And if I can pick up something along the way – a few essential groceries for dinner, for example, that's one less car trip, which is always a good thing for the environment."
When it comes to preparing for bed, a few small earth-friendly behaviors go a long way – for your health and the environment
"As bedtime approaches, dimming the lights a few hours before not only helps prepare the body for sleep, but also saves energy," explains Jonathan. "And try not to leave your phone charged in overnight. Nowadays, smartphones have gotten better about battery usage and can charge up quickly to an acceptable percentage for overnight. Anything else is just wasted energy."
Drew's commitment to the planet is reflected in the bed itself. He recommends purchasing sheets that are made from natural and/or recycled materials, and looking for sustainability certifications like those from Oeko-Tex. "And don't forget to switch out bedding depending on the season," he adds. "A lightweight quilt in the summer can replace a heavier comforter in the winter without having to crank the thermostat up and down."
If you're embarking on a décor refresh of your bedroom, be cognizant of the materials you choose for your bedding. Eco-friendly fibers include wool, cotton, hemp and bamboo. Scott Living's bedding collection features sustainably sourced, breathable and moisture-wicking HygroCotton sheet sets. And as many viewers have seen in the Property Brothers' amazing renovations, they often use up-cycled materials and incorporate sustainability into their designs.
Every little bit of effort helps us all sleep a bit easier and preserve our planet.
Rest well & wake up ready to go!
Better sleep gives rise to better mornings, bringing your goals into focus and dreams within reach. Hungry for more sleep info? Dig into these posts:


Eager for more sleep info you can really use?
Join our community Facebook and let's continue the conversation.
We'd love to hear what you have to say!
This blog does not provide medical advice. It is intended for general informational purposes only and does not address individual circumstances. It is not a substitute for professional medical advice, diagnosis or treatment and should not be relied on to make decisions about your health. Never ignore professional medical advice in seeking treatment because of something you have read on Restonic.com. If you think you may have a medical emergency, immediately call your doctor or dial 911.
Get better sleep, today