---
Latex, where it comes from, how it's manufactured and why it's in your mattress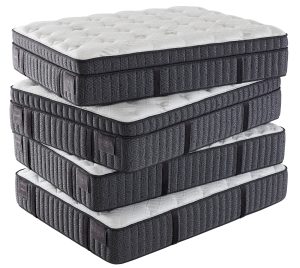 Getting a good night's sleep depends on a variety influences – stress level, health issues, room temperature and overall comfort. But let's be honest, a good mattress is the core building block of sleep.
Ask a group of friends if they've ever heard of latex in mattresses and we guarantee you'll get at least one giggle – and possibly an inappropriate college joke. All kidding aside, a mattress made with latex may be one of the most comfortable, supportive sleep surfaces in the market today – and one of the most misunderstood as well. Buoyant, supportive, therapeutic pressure-point relief are just a few of the words used to describe latex mattresses.
Let's begin with what latex is and where it comes from
Latex is the end product of harvested liquid from rubber trees (Hevea Brasiliensis) in Asia. These trees produce up to 4 lbs. of sap a year and are considered a rapidly renewing resource that can be harvested for generations – without the need for large farm equipment or harm to the trees.
Learning how latex is converted from liquid to a mattress can be confusing though because there are a variety of ways it can be manufactured. Talalay and Dunlop (also known as Standard) refer to how the latex is converted from liquid to foam. Natural and synthetic refer to the chemicals added during either process.
Dunlop (Standard) Latex. During the Dunlop (Standard) process, harvested rubber milk is frothed to add air (like mixing egg whites). The more the latex is frothed, the softer the latex. After mixing, it's poured into sealed molds that are cooked to produce a finished foam slab – much like baking a cake. The bubbles creating during the mixing process aren't connected and when pressure is applied to the foam, air in those bubbles is compressed, creating a firm but buoyant feeling.
Talalay Latex. Talalay latex is processed similarly to Dunlop, but the molds are very different. Thousands of pins inside the molds create air channels that increase breathability and conformability of the finished product. As well, an additional step of flash freezing before the cooking process ensures the stability of the air channels when the foam is made into a mattress.
Talalay latex is more resilient and buoyant than Dunlop, springing back quicker and allowing heat and moisture to travel more freely through the mattress – good news for people who suffer from temperature fluctuations during the night. But both types of latex have a place in your mattress. Softer Talalay latex is often used closer to the sleep surface while Dunlop shores up the underside, creating a stable foundation. Both Talalay and Standard latex are often used in the same mattress to achieve levels of firmness neither can achieve alone.
Because latex is a natural product and consistency can be difficult to maintain, synthetic latex was developed. It has a similar molecular structure to natural latex but it's easier to predict consistency of the finished product. Most mattress manufacturers today use a combination of both natural and synthetic latex to create a more consistent sleep experience.
Worried about latex and if you could be allergic to your new mattress?
Worried you may have a latex allergy? Contrary to popular belief, a latex allergy isn't developed from over-exposure – you're either born with it or you're not. It was once common to find latex protein in the white powdery dust on balloons and medical gloves – which is a highly allergic substance. In mattresses, 98% of proteins are washed away during manufacturing – and always have been. Latex proteins are very rare in any consumer products now, thanks to government regulations.
Benefits of latex in your mattress
Regardless of your preference for a firm or plush mattress, Restonic offers a wide range of mattress that address many sleep and health concerns. While spring mattresses tend to push back and memory foam mattresses create an impression, latex added to your mattress supports all the contours of your unique body. Instead of forcing your spine into a straight line, a buoyant latex layer allows your muscles, joints and spine to relax naturally.
Which brings us to a new breed of mattresses – hybrid mattresses…
A hybrid mattress, a multi-layer unit, combines an innerspring system with memory foam, latex or gel – or all three. The end result is a mattress with improved pressure point relief (thanks to the foam layers) along with the sturdiness of a traditional spring mattress.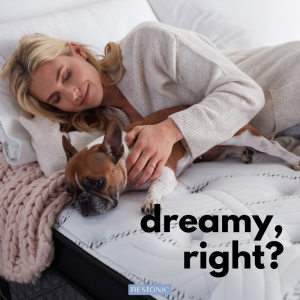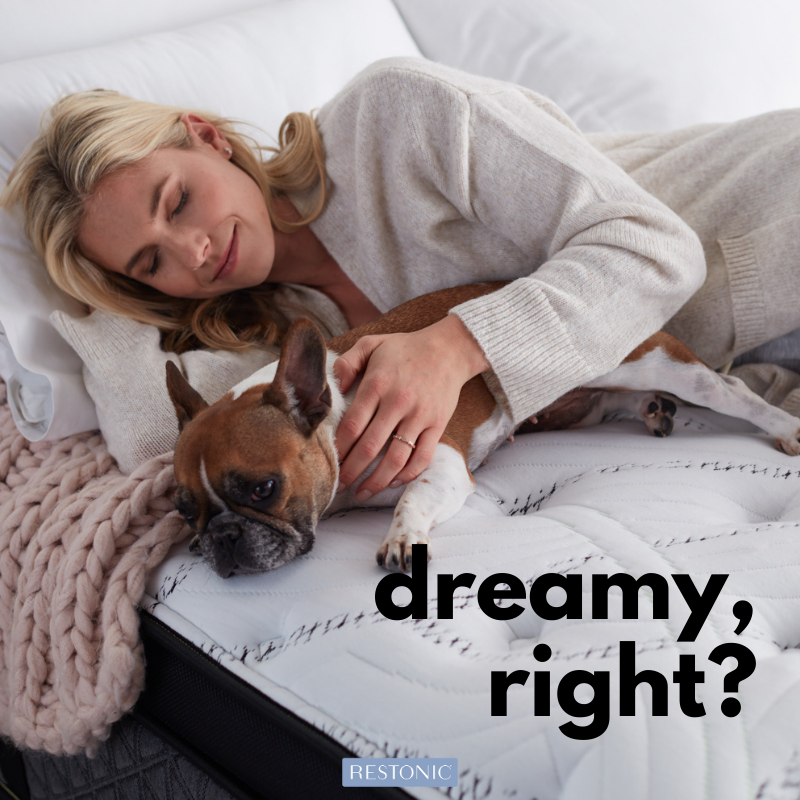 Let's peel back the covers and look into how the layers of a hybrid mattress work together to deliver an exceptional night's sleep.
Base layer. Traditionally made from foam, this layer stabilizes the mattress while adding additional padding and sturdiness.
Support layer. The supportive core of the mattress that does the heavy lifting. Individually-wrapped, pocketed coils and springs deliver the spinal support your body needs to allow you to relax into a deep, restful sleep. In some models, support is enhanced with a microcoil unit for a firmer seating edge and a smooth transition between the edge and surface support system.
Comfort layer. For optimal sleep, our bodies need to find and stay in a moderate temperature zone, which can be achieved with memory foam, latex or cooling gel. This layer also provides pressure point reliefand helps reduce tossing and turning.
Pillow-top. Considered the cherry on top, this layer provides an additional layer of cushioning.
While all of these materials on their own can deliver a great night's sleep, combining them improves their effectiveness and actually extends the life of your mattress. Some mattress experts feel that hybrid mattresses reduce the chance of body impressions because the construction materials support each other in ways we've never seen before.
7 advantages of latex in your mattress
Reduced motion disturbance – no explanation needed if you sleep with a partner…
Superior, cushioning support for side, tummy AND back sleepers
Customizable firmness options
Great longevity – latex extends the comfort life of a mattress
More hygienic because of the open cells that help reduce moisture buildup
Naturally dust mite resistant and antimicrobial
Reduced stress on pressure points – at any firmness point
Rest well & wake up ready to go!
Better sleep gives rise to better mornings, bringing your goals into focus and dreams within reach. Hungry for more sleep info? Dig into these posts:

Eager for more sleep info you can really use?
Join our communities on Facebook and Twitter and let's continue the conversation.
We'd love to hear what you have to say!
This blog does not provide medical advice. It is intended for general informational purposes only and does not address individual circumstances. It is not a substitute for professional medical advice, diagnosis or treatment and should not be relied on to make decisions about your health. Never ignore professional medical advice in seeking treatment because of something you have read on Restonic.com. If you think you may have a medical emergency, immediately call your doctor or dial 911.
Get better sleep, today