---
Ditch the BBQ for a super tasty start to your holiday celebrations
It's here! Yes, we're talking about spring. And warmer weather. Which also means Memorial Day! And the first long weekend of the season.
This year, after a tough winter, we're looking to shake things up a little. Maybe it's the rebel in us, but we are ditching Memorial Day picnics for….BRUNCH! That's right. We're gearing up to prep a beautiful, fresh breakfast + lunch combo that will take us lazily through our family-filled day.
Why do we love brunch? Oh, let us count the ways.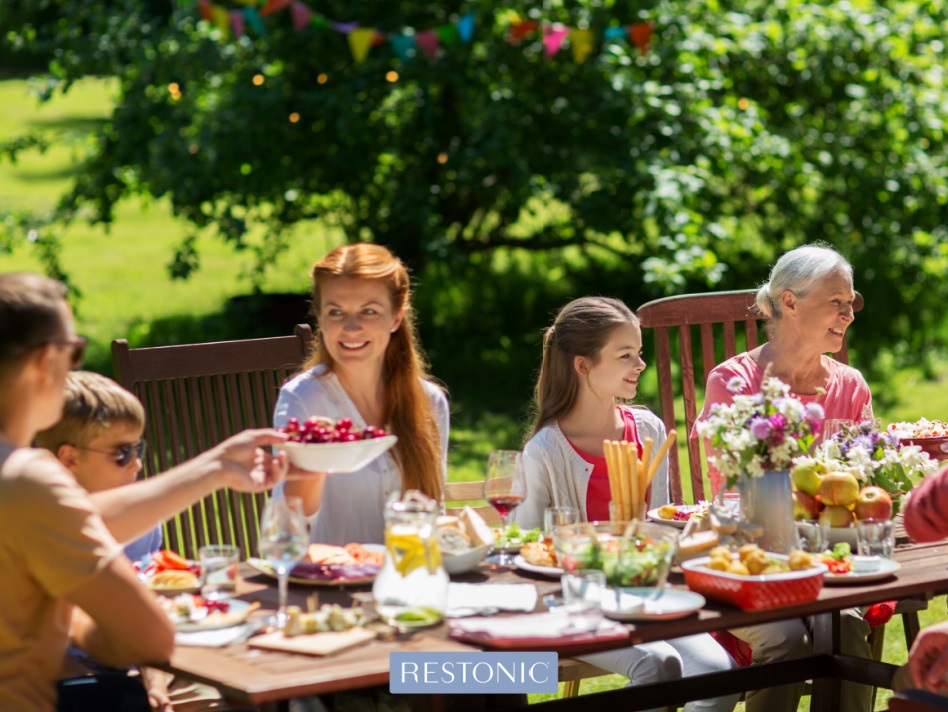 We get to sleep in.
We can eat breakfast food, lunch food, or a combo – did we hear you love savory french toast casserole?
Most of the dishes can be prepped in advance, which means sleeping late without feeling guilty.
If you know, you know. It just feels so weekend-y and decadent.
Because we love brunch. Like who DOESN'T love brunch?
Of course, since it's Memorial Day, we're serving red, white and blue themed dishes as well as spring-like favorites. We hope we get you thinking about planning your own Memorial Day brunch.
Red, white and blue flag toast recipe
Let's start with an easy and colorful treat that the kids can even make themselves–while you're sleeping in, of course. This Red, White, and Blue Toast will remind you why we're having a long weekend in the first place. Plus, it's super yummy and made with ingredients you most certainly have on hand. Get the recipe: allrecipes.com
Fluffy lemon ricotta pancakes with blueberry sauce recipe
Put away that pancake mix. You're about to make pancakes–from scratch! And a homemade blueberry sauce to boot. Don't be intimidated. This totally approachable recipe is designed for even the most beginner cooks. You'll definitely impress everyone's tastebuds with this light and lemony delight. Tip: make the sauce ahead and store in the fridge for up to 2 days. Get the recipe: foodnetwork.com
Baked blueberry oatmeal recipe
Not an oatmeal fan? This make-ahead baked oatmeal is sure to convert you. Start with oats and add in all kinds of healthy ingredients like flax, hemp, strawberries, blueberries and banana. It's easy to adapt too, for taste or food needs like a gluten-free diet. Like it less sweet? Reduce the sugar. Don't like blueberries? Use another fruit. Once it's assembled, just bake and serve–it's perfect for brunch or dessert (topped with ice cream). Even your pickiest eaters will love the crispy crunchy crust and the ooey-gooey center. Get the recipe: loveandlemons.com
Spring eggs benedict recipe
What if you could combine all of your brunch favorites into one dish? Yes, we're serious. We're talking waffles, hash browns, sausages… All. To. Gether. Start with hash browns cooked up in a waffle iron. Pile on your favorite sausages and the perfect poached (or fried, if that's your preference) eggs. Top with homemade Hollandaise Sauce– you can do it! If you're looking for us, we're over here stuffing our faces. PS if you're counting carbs, meet us at the table. Get the recipe: straight.com
Spinach strawberry salad recipe
Even the most decadent brunch can be well-balanced with a salad. Or so we're telling ourselves. And this super yummy, super easy spinach and strawberry salad is just what we're looking for. Full of texture and bright flavors, this colorful fruit and greens salad is not only healthy, but will tempt even the most reluctant greens eaters. Add blueberries to the red of the strawberries and the white of the feta for the full patriotic experience. We mean, we're only doing our duty as good Americans, right? Get the recipe: wellplated.com
Egg and asparagus gratins recipe
Sometimes you've got to go with an elegant classic while also trying to use ingredients that are on hand and in season. But that doesn't mean said classic has to be super difficult to make. With just 7 ingredients, these individual Egg and Asparagus Gratins will delight you for brunch this weekend–or really anytime. Talk about cooking to impress! Get the Recipe: foodandwine.com
Easy homemade strawberry shortcake recipe
Even though it's brunch, we are not forgetting dessert. No, we are not, no way, no how. Skip the store bought and make your own spring-inspired strawberry shortcakes. This recipe is designed to make things easy. Start with fluffy, homemade biscuits then fill with sliced berries and 3-ingredient whipped cream for a luscious and unforgettable treat. We only have one question: what time should we be there? Get the Recipe: sallysbakingaddiction.com
Rest well & wake up ready to go!
Better sleep gives rise to better mornings, bringing your goals into focus and dreams within reach. Hungry for more sleep info? Dig into these posts

Eager for more sleep info you can really use?
Join our community Facebook and let's continue the conversation.
We'd love to hear what you have to say!
This blog does not provide medical advice. It is intended for general informational purposes only and does not address individual circumstances. It is not a substitute for professional medical advice, diagnosis or treatment and should not be relied on to make decisions about your health. Never ignore professional medical advice in seeking treatment because of something you have read on Restonic.com. If you think you may have a medical emergency, immediately call your doctor or dial 911.
Get better sleep, today