---
Design cues from America's iconic historic country estate known for impeccable, classic décor
Since Biltmore first welcomed guests in 1895, the home of George Vanderbilt and his family became well known for its sophisticated luxury, from its carefully curated gardens to an art-filled library. Each year, more than a million people visit the elegant house in Asheville, North Carolina, to soak in its history and to admire its stylish décor.
But the luxury of Biltmore doesn't have to stay at Biltmore. Fortunately, anyone can borrow a page from the Biltmore design book and create their own gorgeous spaces at home. A great place to invite luxury into your life is with a bedroom transformation with inspiration, of course, from America's grandest home.
7 ways to make your bedroom a luxurious sanctuary
Look to Biltmore for its timeless décor secrets to transform your bedroom. Even small changes can have a big impact.
1. Adorn your bedroom walls with art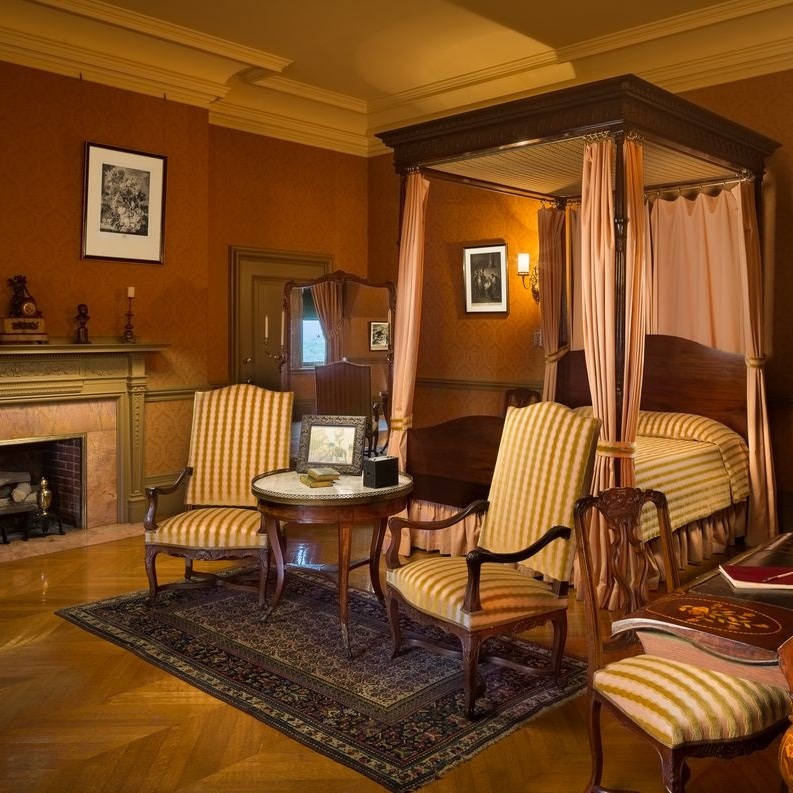 Biltmore's bedrooms are chock full of beautiful objects. George Vanderbilt voraciously collected fine art and antiques, sourcing pieces from leading European and American dealers, including H. Wunderlich and Company in New York City. As well, he brought many pieces home from his extensive travels.
Many of the guest bedrooms were decorated with prints representing some of George Vanderbilt's favorite artists. Some rooms were even named for the artwork featured in them. For example, the Madonna Room in the Artists' Suite takes its name from the religious prints displayed, while the Claude Room in the Louis XV Suite was named for the artist Claude Lorraine whose work adorns the walls.
For most people, a well-designed bedroom feels "right" when it's focused on personal comfort, reconnection and sleep. To ensure your bedroom truly is your personal sanctuary, choose pieces of art that resonate with you or spark memories of special times. And remember, whether it's organizing your nightstand or choosing wallcoverings, less is always better – clutter and sleep make terrible bed partners.
2. Splurge on quality pillows and bedding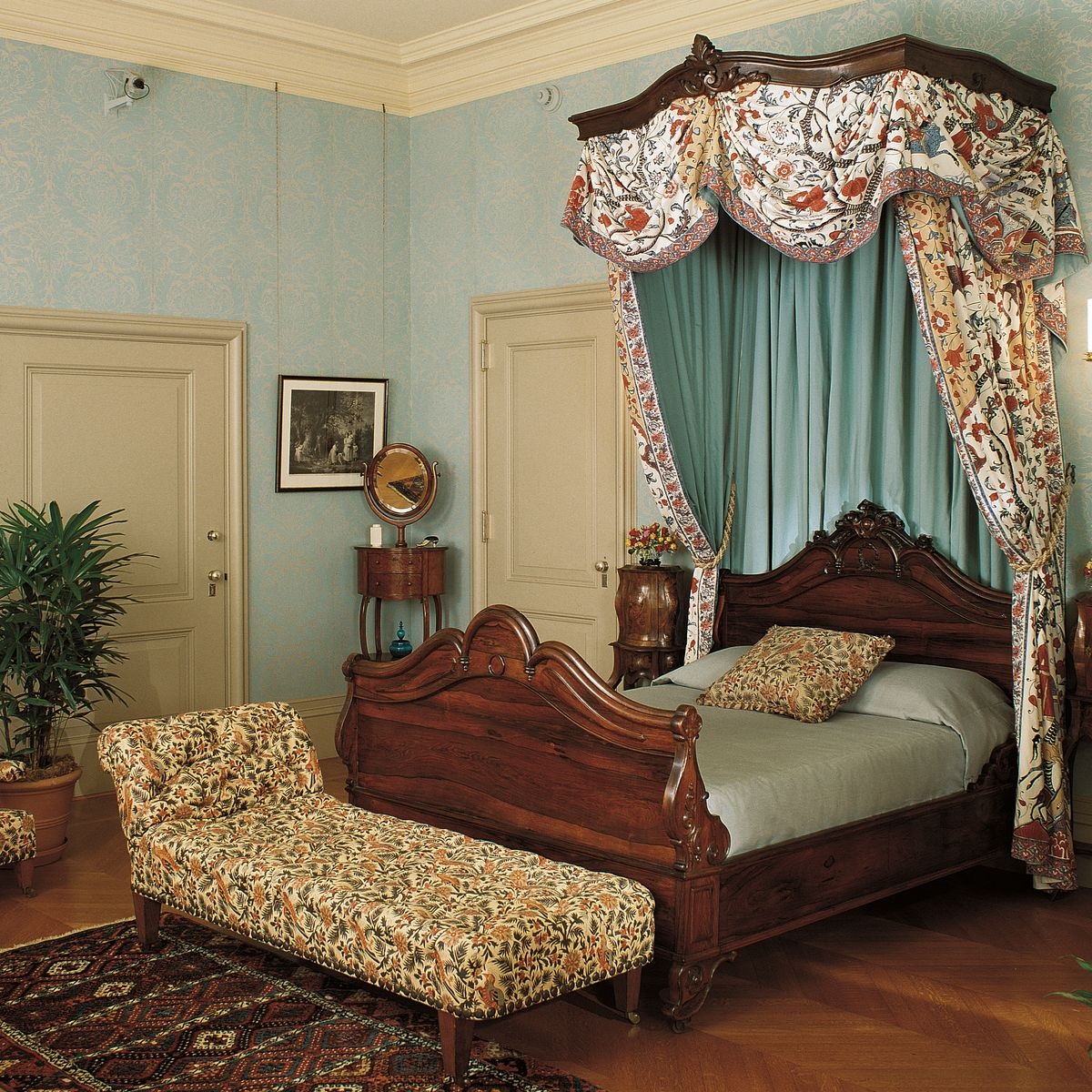 During George's lifetime, bedding in the Biltmore bedrooms were designed to impress, with crisp, finely made bedspreads atop high-quality linens sure to provide a good night's sleep. At the turn of the 19th century, beds were made up with a mattress coverlet, a top sheet, a cover, pillowcases and a decorative bedspread that was removed prior to sleep. (Lower-cost mattresses were often stuffed with abrasive materials that created a perfect home for insects so you definitely wanted a coverlet as a barrier.)
Simpler homes may have substituted this highly decorative top layer for a quilt. More elaborate beds included a canopy, although four-poster beds with surrounding hangings had gone out of style by 1895.
How will you dress your bed? Invest in high quality bed linens to provide a luxurious aesthetic and maximize sleeping comfort. And don't forget great pillows. Back in the day, pillows took on extra importance since people slept propped up on them in a reclined seat position rather than flat on their backs.
3. Set your bedroom mood with lighting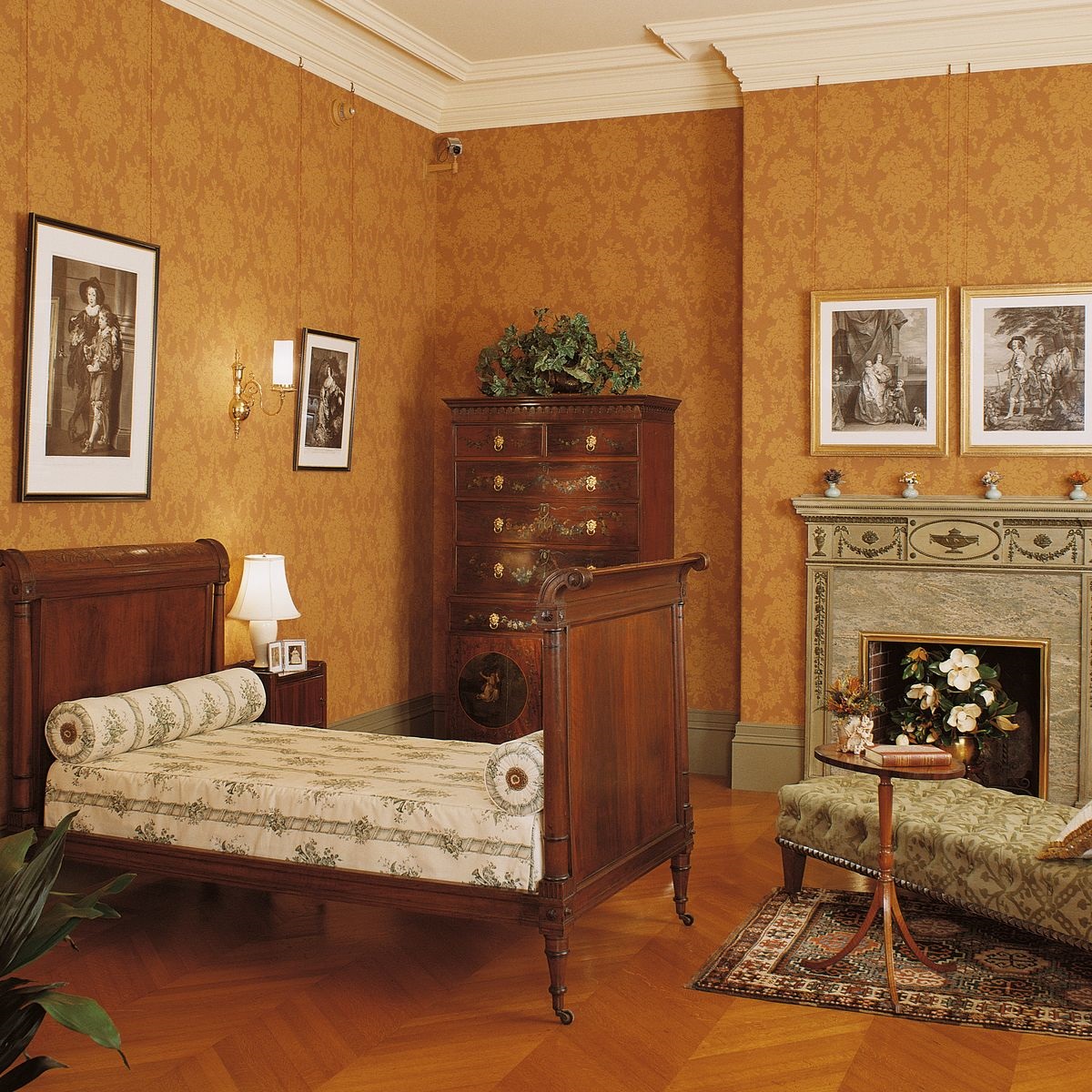 Since Biltmore was built with wired-in electricity, the guest bedrooms have always had electric wall lighting. However, bulbs at the turn of the 20th century would have been dimmer than we're used to today. Electric power was also wildly unreliable, even after the installation of a generator in the basement of Biltmore. It wasn't until a system of batteries came into use that 24-hour-a-day power was moderately reliable.
Light would have also come from supplemental sources. The Biltmore collection includes several oil lamps that show signs of use. Candles were likely ordered to provide light for activities (like reading or needlepoint) undertaken at night.
When it comes to lighting for your modern bedroom, think in layers.
Ambient lighting during the day can help when you're tidying up or relaxing
Accent lighting creates a calming transition from day to evening
Task lighting focuses where it's needed most without interfering with your partner's sleep
Consider replacing your bedroom incandescent bulbs with LED lights. They last much longer, save energy and generate almost no radiant heat. They can be much brighter though so balancing different types of light in your bedroom will help it be a functional room for day and nighttime. An interesting side note, Biltmore recently completed a five year project to switch every bulb in Biltmore House to an LED in a historically accurate color.
4. Make a statement with your bedroom furniture
B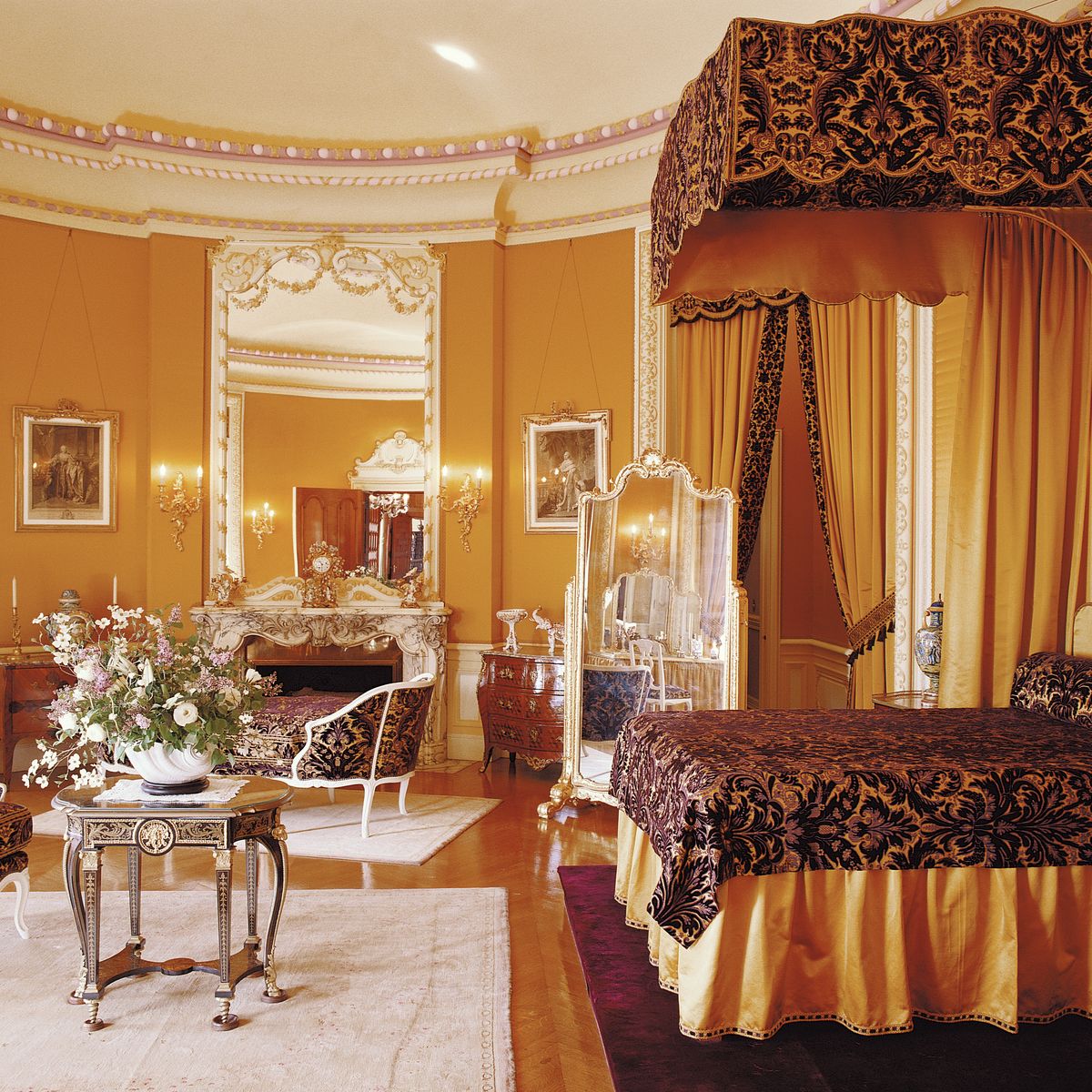 iltmore features many "statement" pieces. There are some notable examples, including George Vanderbilt's elaborately carved bed from a 17th century Portuguese manufacturer, which was purchased from antiques dealer Léon-Roswag in 1895. As well, a suite of green, upholstered Knole style armchairs and settees feature adjustable arms that were ratcheted up or down to suit the occasion. They were believed to have been used in the Oak Sitting Room, a private area connecting the Vanderbilt's separate bedrooms where they could cozy up to read or chat with friends and family.
In the Louis XV room, a unique chaise lounge upholstered in gold silk damask known as a duchesse brisée (or broken duchess) competes for attention among the stunning furnishings and wall treatments. It's comprised of an armchair and footstool, both in the Louis XV style featuring floral carving on the frame.
At Biltmore, sometimes the statement pieces were part of the architecture of the room. One example is the chimney surround in the Tyrolean chimney room. George Vanderbilt discovered the exquisite piece made of hand-painted ceramic during his travels to the Tyrol region of Switzerland. He had it fashioned into a surround, the part of a fireplace that covers the chimney, for a room in the Louis XV suite. It remains the centerpiece of the room.
In your bedroom, consider investing in a piece of furniture to serve as a focal point. Depending on the size of your bedroom, a beautiful head and/or footboard can add interest and/or spark a soothing emotional attachment. If you have a small bedroom, think about a unique nightstand, dresser or sleek chair placed in the corner to create a cozy reading nook.
5. Storage solutions for any era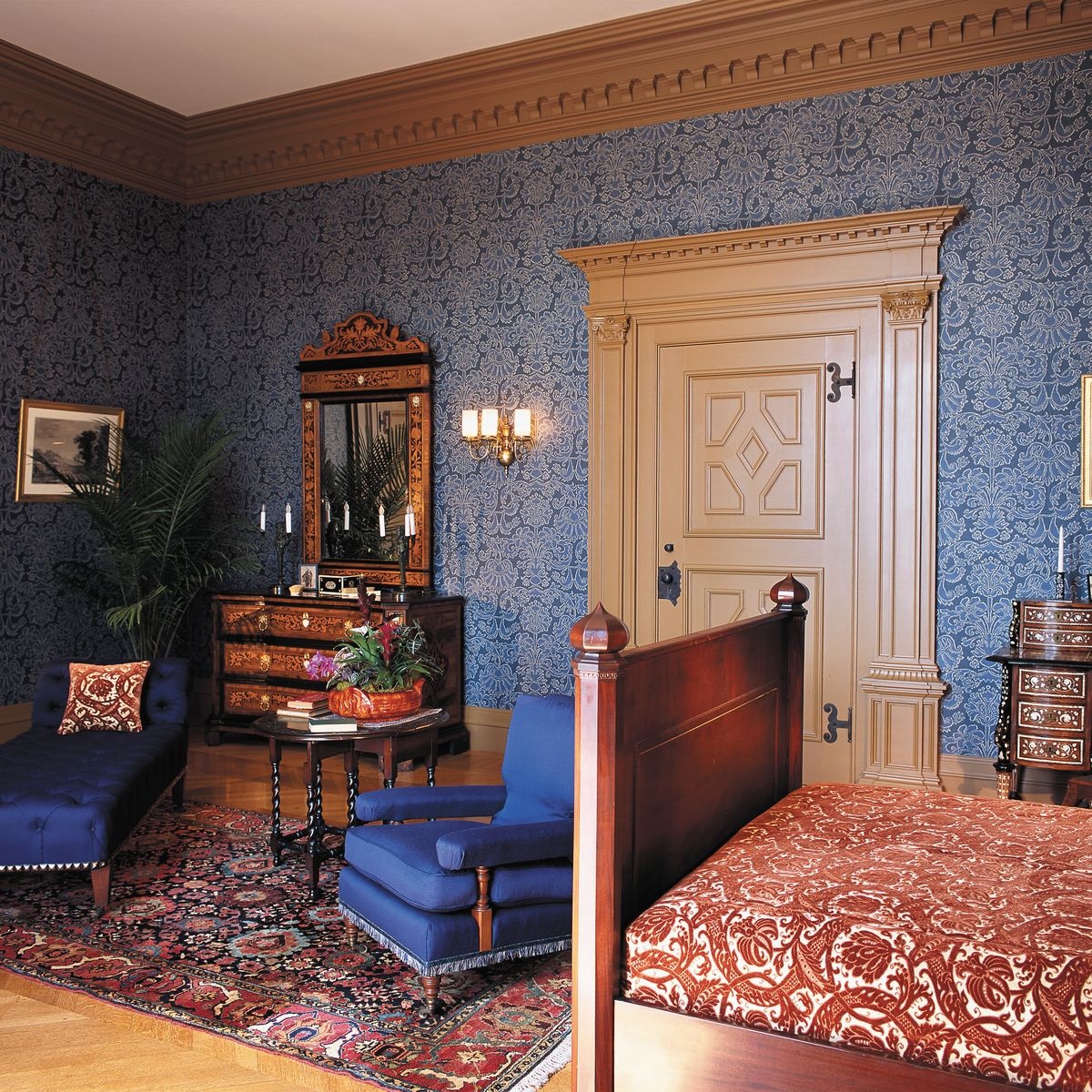 Every guest room at Biltmore would have had storage (or closet) space where clothing and accessories could be kept out of sight. Travel trunks that clothing was packed in were stored elsewhere in Biltmore – out of sight of guests, usually in the basement. If one traveled with a domestic servant, that person would see to the unpacking of one's trunk and make sure clothing and personal effects were carried and stored carefully in the designated bedroom. Biltmore's bedrooms also featured desks for the storage of personal books and papers, as well as dressers and bureaus to meet other storage needs.
Adding a desk to your bedroom is a practical idea, not just for storage, but as a versatile space to be used for reading, journal writing and catching up on phone calls or emails – without having to use your bed. For more storage tips, follow the Vanderbilts' lead and use trunks to store seasonal bedding and extra pillows. If the trunks will be in your bedroom, hunt down vintage models at second-hand shops and online for a more interesting look.
6. Add live décor accents to your bedroom with plants and flowers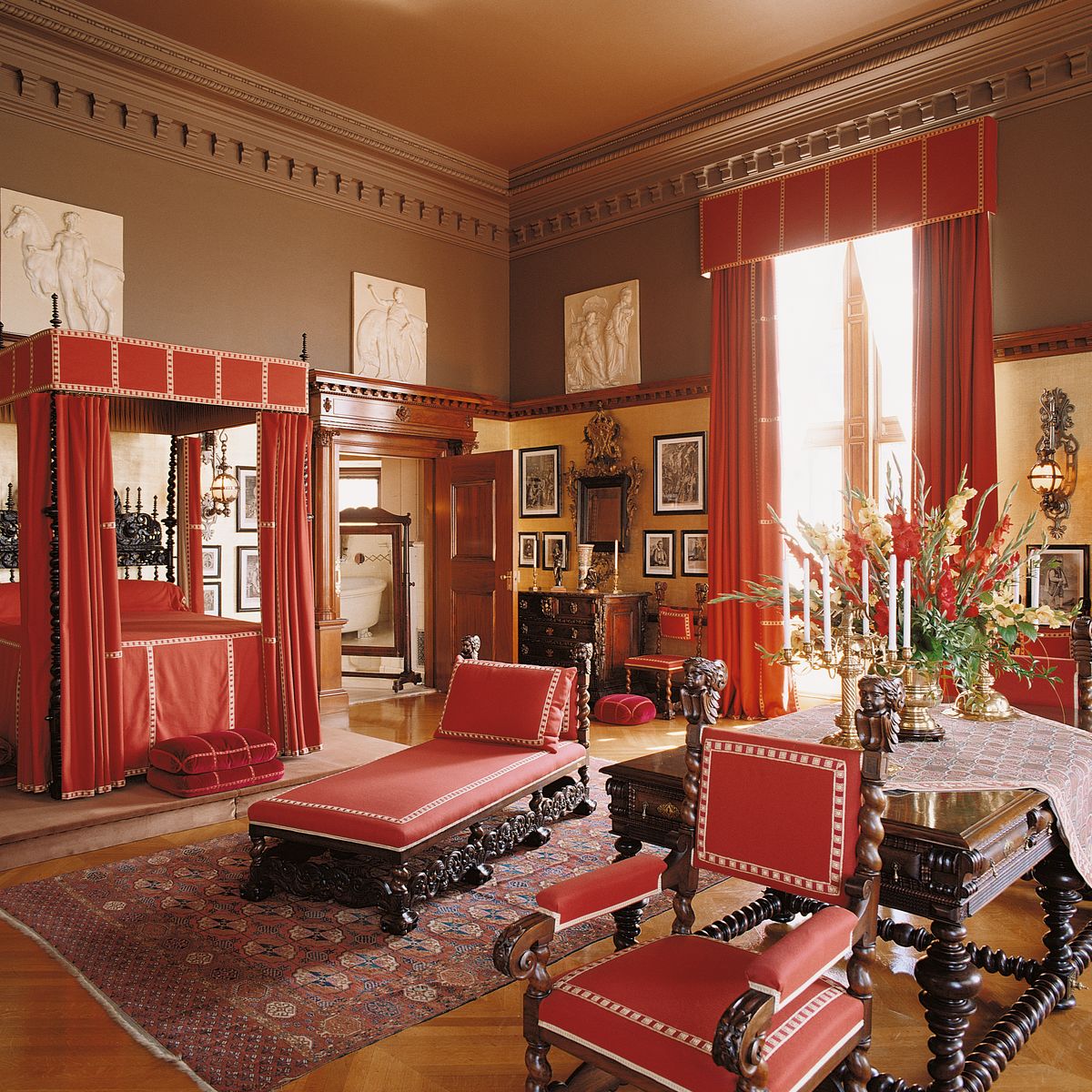 Before the Vanderbilts returned to Biltmore, they would often reach out to their head gardener, Chauncey Beadle, with requests to stock private and public spaces with flowers.
Family and guests alike would have been greeted with fresh flowers in their bedrooms, switched out every few days during their stay. Today, Biltmore's floral team works hard to design arrangements in both silk and real flowers to fit seamlessly into the rooms in which they're placed, often while tying into a larger, overarching theme.
7. Finishing touches of your bedroom is in the details
Biltmore's bedrooms were themed, according to George Vanderbilt's wishes. Sometimes, the theme was a style of furniture, like Louis XV or Louis XIV. Small period-appropriate details of the room reinforced the theme, from picture frames to tabletop ornaments. George purchased the door handles for his bedroom to echo the form of the figures carved into the over-mantel of his fireplace.
To refresh your bedroom, consider changing up light switch plates, dresser handles, decorative pillows, duvet covers and throw rugs. Whether you go high end, vintage or economical chic, giving your bedroom a luxurious feel is more about letting your personality shine than it is about how much you spend.
With Biltmore in mind, elevate the luxury in your bedroom décor in ways large and small. Think timeless. Think classic. You'll find the right décor path for your bedroom.
Rest well & wake up ready to go!
Better sleep gives rise to better mornings, bringing your goals into focus and dreams within reach. Hungry for more sleep info? Dig into these posts:
Eager for more sleep info you can really use?
Join our communities on Facebook and Twitter and let's continue the conversation.
We'd love to hear what you have to say!
This blog does not provide medical advice. It is intended for general informational purposes only and does not address individual circumstances. It is not a substitute for professional medical advice, diagnosis or treatment and should not be relied on to make decisions about your health. Never ignore professional medical advice in seeking treatment because of something you have read on Restonic.com. If you think you may have a medical emergency, immediately call your doctor or dial 911.
Get better sleep, today