---
Welcome back, summer!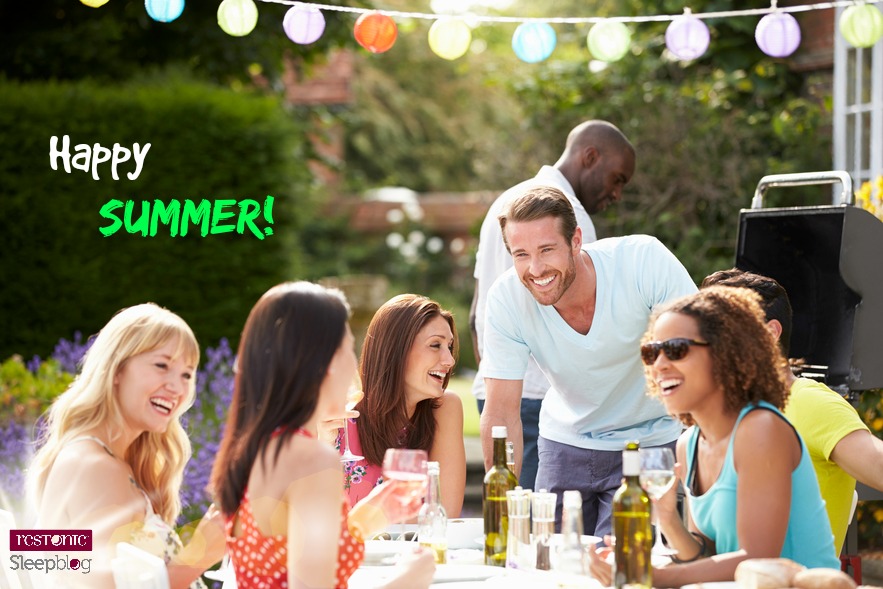 The days are getting longer. The temperatures are finally warming up. The school year is winding down. And the first holiday weekend of the summer season is upon us. Although summer doesn't technically start until June 21st, we like to think of Memorial Day weekend as the start of the summer season. Sound like an idea you can get behind?
Admittedly, this winter was a rough one – long, cold and snowy in most parts of the country. We're ready to throw our snow boots into the back of the closet and bust out the flip flops. But with the longer days and warmer weather comes changes in our sleep habits – some good and some challenging. But don't worry, we have some sleep solutions to ensure you're well-rested and ready to enjoy all of this summer's fun.
Tone down the light at night
With the sun staying up later, you may find yourself pushing your waking hours later and later. It can be hard to unwind and prepare for bed when the sun is up until 8 p.m. Even if you don't normally hit the hay until 11 p.m., the later sunsets can affect your ability to fall asleep. In your bedroom use a dim bulb once the sun sets. Be sure to unplug an hour before you expect to sleep – studies show that electronics, especially when used in the bedroom, can be sleep-stealers. Think of your bedroom as a dark, soothing sanctuary for a night filled with sweet dreams. And don't forget to pull the curtains closed tight.
Dress your bed for warmer temperatures
At night, warmer temps and humidity can make sleeping a challenge – especially if you don't have air conditioning. Flannel, satin and sateen sheets trap heat, making it hard to stay cool when it's warm out. Choose 100% cotton sheets to keep cool and comfortable. Also, if you use a heavy comforter to stay warm in the winter, replace it with a light weight blanket for summer. A blanket will be just enough to keep you warm should the temperatures take an unseasonable cool dip at some point.
Get loose
PJs are great but sometimes it's just too darn hot. Don't be afraid to sleep in the nude. There are numerous benefits to sleeping naked. Don't believe us, ask our Frozen friend Sven.
Hydrate – but in moderation
If you find yourself sweating at night because of the summer heat, be sure to hydrate before bed. Drink a small glass of water before to ensure you don't wake up with that hungover, dehydrated feeling. Also, remember to up your water intake during the day. Staying hydrate will help ensure you have the energy to have the maximum amount of fun this summer.
Party on – but moderately
Summer party season kicks off this week. The invites to weddings, BBQs and outdoor concerts will be arriving. And while we want you to have fun – everything in moderation. Watch your alcohol consumption because alcohol and sleep aren't that great of friends. Again, remember to drink a glass of water before bed to combat the dehydration that comes with drinking alcohol. Also, don't over extend yourself. It's ok to say no to some of the invites you aren't that excited about. Maintaining a somewhat normal sleep schedule during the summer is important.
Hopefully by following these tips you'll be able to make the most of your summer. Enjoy it!
Eager for more sleep info you can really use?
Join our communities on Facebook and Twitter and let's continue the conversation.
We'd love to hear what you have to say!
This blog does not provide medical advice. It is intended for general informational purposes only and does not address individual circumstances. It is not a substitute for professional medical advice, diagnosis or treatment and should not be relied on to make decisions about your health. Never ignore professional medical advice in seeking treatment because of something you have read on Restonic.com. If you think you may have a medical emergency, immediately call your doctor or dial 911.
Get better sleep, today