---
Sweet dreams begin with surrounding yourself with what you love
We're a bit all over the place when it comes to decorating. The wardrobe, bed and full length mirror are from IKEA and the school desk in the corner is a vintage piece I picked up at a church rummage sale twenty years ago. The bedroom has been through many iterations in the seven years that we've lived here. The current set-up is the one we've kept the longest. It looks clean and organized while still feeling comfortable and homey.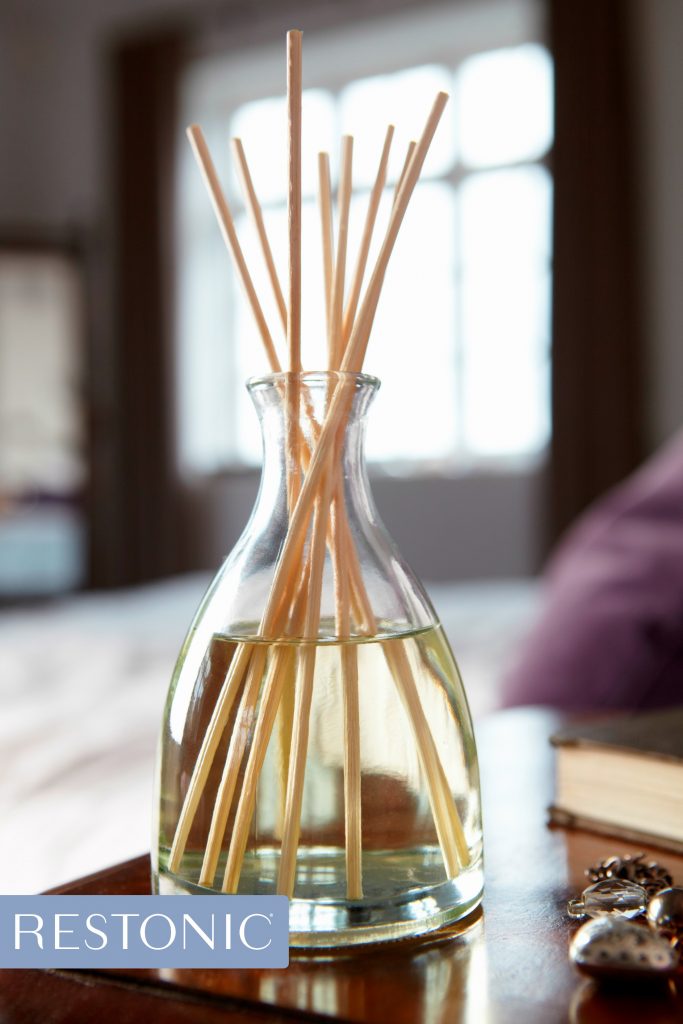 How do you use your bedroom?
Jason –  Even though our apartment is a small one bedroom, we don't really use the bedroom for anything other than sleep. You'll notice that we don't have a television in the bedroom. In fact, the only electronics in the room are our cell phones at night. I like to keep the bedroom as a sanctuary from the daily grind. This is the space where we reconnect at the end of our day.
What's the most prized possession in your bedroom?
Jason –  The picture that hangs above the bed was a gift from an artist friend. My husband, Michael, had been admiring it for years and when the friend gifted it to us, we knew immediately where it would hang. That friend has since passed away and we both delight in knowing that his gift hangs above our heads as we sleep at night.
Do you make your bed in the morning?
Jason – Yes! I don't feel like the day can even get started until the bed is made.
When was the last time you bought a new mattress?
Jason –  I'm ashamed to say that it's been almost thirteen years since we replaced the mattress in our apartment. Although we're due to replace our current mattress, we've prolonged the life of it with a new mattress pad. We have, however, recently purchased new mattresses for our second home in Iowa. We purchased two twin Restonic mattresses and one full-size Restonic mattress. The mattresses are so comfortable that when we're at our house in Iowa, we have to drag ourselves out of bed in the morning!
What's your mattress preference? Firm, soft or somewhere in between?
Jason – We both prefer a soft mattress and count ourselves fortunate in that we share the same mattress softness. I know other couples who argue over mattress firmness so we consider ourselves lucky to have the same softness preference.
Are you a back, stomach or side sleeper?
Jason –  I'm all over the place when I sleep. I usually start on my side but end up on my back or stomach at some point in the night.
Editor's note:
At Restonic, we know buying a mattress can be a time-consuming, stressful exercise. Because Jason and his husband share sleeping preferences, it will be easier for them to find a right fit for their new mattress. To help them begin their new mattress quest, the following blog posts will help with both the research and the instore buying experience. We like to call this process, the phygitial art of buying a mattress – combining the physical experience with digital research. Start by getting online and learning as much as you can about mattress buying – then get yourself into a store and start test-driving different mattresses.
Read through all our bedroom therapy posts!
Eager for more sleep info you can really use?
Join our communities on Facebook and Twitter and let's continue the conversation.
We'd love to hear what you have to say!
This blog does not provide medical advice. It is intended for general informational purposes only and does not address individual circumstances. It is not a substitute for professional medical advice, diagnosis or treatment and should not be relied on to make decisions about your health. Never ignore professional medical advice in seeking treatment because of something you have read on Restonic.com. If you think you may have a medical emergency, immediately call your doctor or dial 911.
Get better sleep, today