---
Make your sleep space more efficient and organized with a little help from the Property Brothers
Whether your bedroom is big or small, there never seems to be enough space to store and organize everything. Closets quickly end up stuffed to the max and finding specific items can be a daunting task.
Thankfully, Drew and Jonathan Scott, hosts of HGTV's Property Brothers, understand the bedroom storage problem well and can share their tried-and-tested solutions for bedroom storage.
Better bedroom storage begins with your bedroom furniture
It's not surprising that picking the right furniture for your bedroom size is high up on the priority list. When space is in short supply, hone in on double-duty furniture that's designed to meet a variety of needs. As Drew points out, "When you're strapped for space, it's important that every piece of furniture you have is useful and necessary."
He says you can cut down on some of that stress by focusing on pieces with multiple functions. One simple adjustment, he suggests, is using a bed frame with drawers underneath for better utilization of your bedroom space. "If you're happy with the bed you have, but still have space underneath, you can use organizing bins and baskets to help you put away seasonal bedding or clothing," he adds.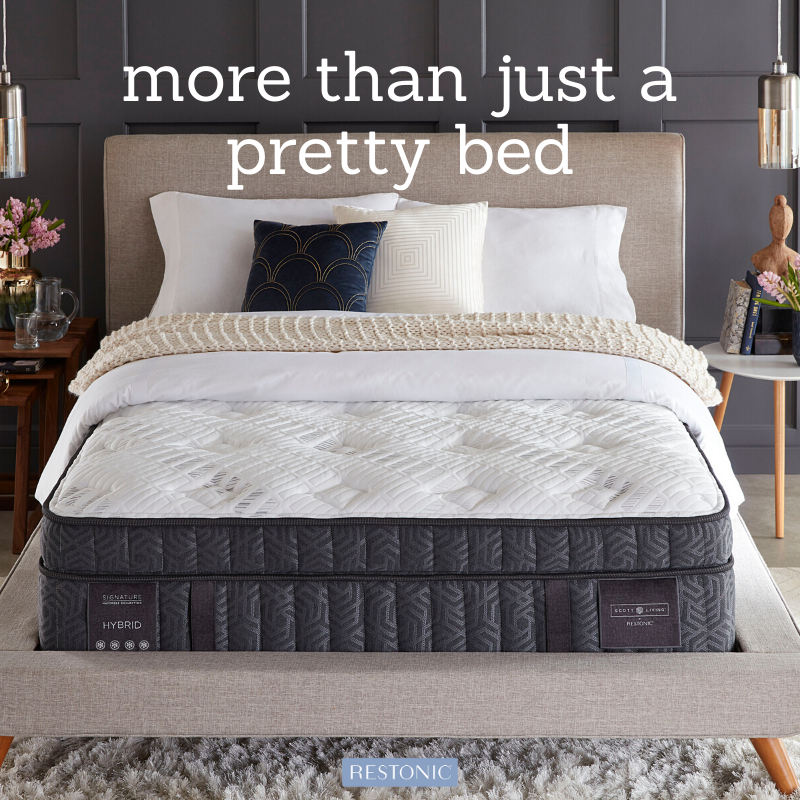 Your bedroom may also require smarter and smaller furniture placement, starting with the bed itself.
Queen-sized beds are the most popular since most bedrooms can accommodate them. More than 40% of all mattresses sold in the United States are queens, with king-sized beds a distant 18%, according to the International Sleep Products Association.
If you're in a particularly small bedroom, Jonathan recommends considering a full-size bed instead. "This can be particularly helpful if it's a guest bedroom, or a bed that won't be used as much," he says. "If that's not an option, or if you're wanting to maximize mattress space, be sure to measure for clearance around the bed, to avoid those middle-of-the-night toe stubs!"
To prevent those toe injuries, experts say that you'll need to have a minimum of 30" around each side of the bed and at the end of the bed. If you've got the space – lucky you! – 36" around your bed is enough room to get in and out of bed without bumping into anything or hurting yourself.
Then, clear out the bedroom clutter
An obvious space solution is to have less stuff. That means clearing out the bedroom clutter and taking a close look at what you need to keep – and what can be thrown out or donated. It may feel like a huge, insurmountable task, but tackling the clutter monster in small increments makes it easier. Commit to 30 minutes a week. If you're strapped for time, just do three 10-minute sessions to keep up the momentum. Soon it will become a habit and you'll see the clutter in your bedroom disappearing, which is hugely gratifying.
"Keeping your bedroom clean not only gives you a calm and relaxing space to yourself, it can also make a small room look larger," explains Drew. "If you're in the market for new nightstands, make sure they have drawers and remember to get two to match. Simply having a place to tuck away items can keep the clutter from piling up. Then, invest in drawer dividers. Setting up a system will help you get in the habit of staying organized."
Scrutinize every space of your room for extra storage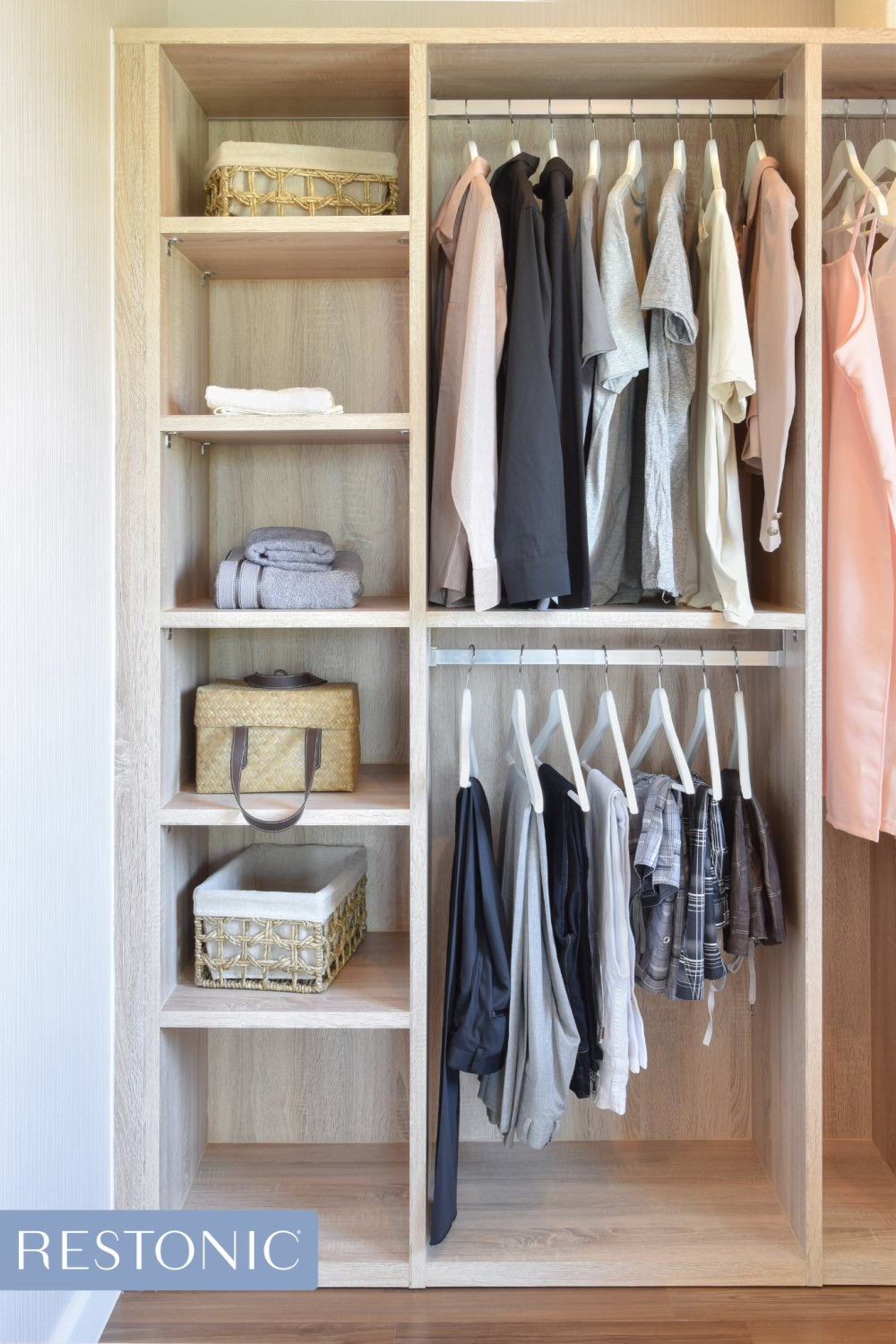 Sometimes, you'll find storage solutions in unexpected spaces, such as on the back of doors. They're the perfect place to hang a shoe organizer or a multi-hook rack. Jonathan suggests taking that organizing energy throughout the room – especially to the closet. "In most standard-sized closets, you can actually fit two levels of racks or shelves," he says. "Then, on the other side, you can include shoe shelves and a drawer set. Simply by thinking outside the box, you can take advantage of under-utilized space and cut out the need for bulky furniture pieces."
These days many of us are still using our bedrooms as our ad-hoc offices. While companies continue to adjust and embrace a hybrid work structure, we may continue to blend working from home and in the office. Using a bedroom for work may be necessary, but it's not the best feng shui for your sleep health. For optimal relaxation at night, it's best to keep work and personal spaces separate. To help do that, consider designating areas of your bedroom according to their purpose.
"Don't stop there!" says Jonathan. "As more and more of us use a bedroom as a home office, dividing the room into zones will help you arrange your furniture. By having distinct sections for work, sleep, or relaxation, you'll optimize traffic flow and better separate your home life from your work life." It's a strategy that's sure to help you sleep better and get a good night of rest.
And that's always worth putting on top of your to-do list.
Rest well & wake up ready to go!
Better sleep gives rise to better mornings, bringing your goals into focus and dreams within reach. Hungry for more sleep info? Dig into these posts:

Eager for more sleep info you can really use?
Join our community Facebook and let's continue the conversation.
We'd love to hear what you have to say!
This blog does not provide medical advice. It is intended for general informational purposes only and does not address individual circumstances. It is not a substitute for professional medical advice, diagnosis or treatment and should not be relied on to make decisions about your health. Never ignore professional medical advice in seeking treatment because of something you have read on Restonic.com. If you think you may have a medical emergency, immediately call your doctor or dial 911.
Get better sleep, today